How to write the perfect press release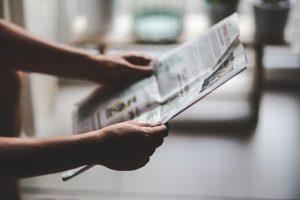 Press releases can be a highly effective way of promoting your business in the local, trade and national press – as long as you have an interesting story to tell
Several months ago, while driving round the M25, I told my six-year-old daughter about a news story I'd read where a pensioner had got stuck on the infamous London Orbital Motorway. Like any inquisitive child, she followed up with a series of searching questions, one of which was "where does the news come from?"
Not having the type of job that would normally excite a six-year-old, such as a  fireman, police officer, doctor or paramedic, I was highly excited to have the opportunity to talk about my profession, which I told her, previously involved writing the news and now involves helping companies to get their stories in the press.
I'm not sure how much she took in, but I explained the different tiers of the local, trade and national press and how journalists would source their features and news stories, with a substantial amount, particularly in the trade press, originating from press releases.
Why journalists are more reliant on press releases than ever before
With resources substantially cut, and the prevalence of the internet, journalists are under greater pressure than ever before to produce more news stories, and break them before their competitors.
As a result, they have less time to generate "off-diary stories" – exclusive articles that are uncovered through meetings with industry sources or through long-term investigations.
Therefore, an interesting press release cuts down on the amount of work they have to do in order to meet the daily or weekly quota of articles that their editor demands.
But this does not mean that any old press release will be snapped up and published in the local, trade or national press.
Why aren't journalists following up on my press release?
While journalists are now forced to spend more time at their desks than they would have done a decade ago, it does not mean they have the luxury of reading every email they receive. In fact, it's unlikely they even read the title of every email they receive.
As we have quoted in a previous blog on pitching feature ideas, journalists receive three times as many emails as any other workers.
It is also increasingly common practice for office workers to check email at set times during the day, skimming the subject line, with uninteresting, irrelevant emails being consigned to the trash without a second thought.
So it is fair to assume that journalists are discarding three times as many emails as anybody else. Unfortunately for those in the communications and marketing profession, a high number of these will be press releases that the sender deems highly important and interesting but the receiver dismisses as completely the opposite.
Ensure your press release is truly newsworthy
If you've spent the last few months developing a new portal or app for your clients, of course you want to shout it from the rooftops and gain as much exposure as possible. A journalist on an accountancy magazine will receive press releases every day from firms that have launched something similar, however.
And describing the portal as "ground breaking" isn't going to stir their interest any further.
So you need to find a way to show the journalist why your technology is innovative and unique. For example, can you demonstrate why it will truly be of benefit to your clients?
One way to do that would be to carry out a soft launch with a small group of clients and get their feedback, whether that is statistical or anecdotal, thereby proving that the technology really is ground breaking and innovative.
Pressing questions
In essence, you need to ask yourself four questions before sending out a press release to ensure it will pique journalists' interest.
1. Is it genuinely a "new" story?
2. Is there anything unusual or unexpected about what you are saying or promoting?
3. Are your comments genuinely of interest to anyone outside of your business?
4. Will anyone actually care about your comments/product/service/research findings?
If you can truly answer yes to these questions, then you have got a good basis to grab journalists' attention.
Give your press release a clear, concise subject line and headline
As previously mentioned, journalists receive dozens of press releases a day, of which the majority will be ignored due to the subject line and headline. You therefore need to ensure your subject line is something that not only stands out but also clearly explains what your press release is about.
An email entitled "Press release: Accountant X releases ground-breaking client portal", for example, is less likely to attract the attention of a journalist than one entitled "Press release: 90% of financial directors find new accountancy portal frees up three hours a week."
Get journalists' feedback
Sometimes you will find that despite having a genuinely interesting story with a punchy, concise headline you have not been able to generate the coverage you were hoping for. One of the best ways to ensure your press releases are picked up by journalists is to build a relationship with those journalists.
A good start is to ring the journalist and get feedback. It may be that they have just missed your email and didn't realise that they are missing out on a hot story. If they did not find it of interest, ask why. It could be that the email was received on their press day, or the day before, when journalists may be working on bigger industry stories.
Find out when their press days are – earlier in the week journalists may be more open to "softer" stories. At the very least, you can find out from the journalist how to better word press releases in the future.
If you would like any assistance with writing a press release and gaining coverage in the industry press, then please get in touch.
If you would like to receive regular financial services content marketing hints and tips, you can sign up to our newsletter here.